Blog
Soundtrack of Sandqvist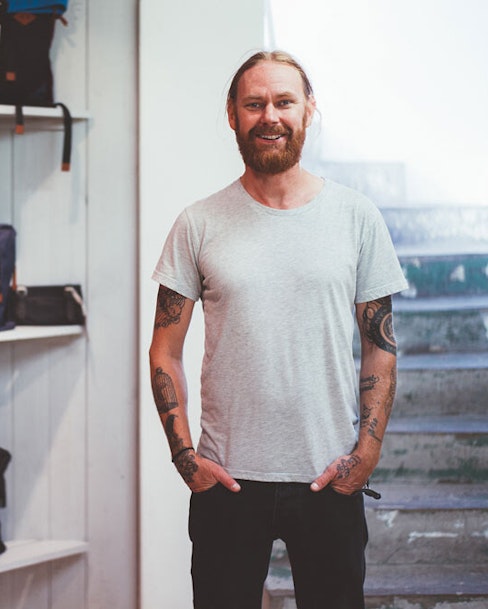 Anton Sandqvist founded his bag brand in 2004, inspired by the remote cabins, soaring mountains and vast unpopulated landscapes of the Nordics
Posted on October 30, 2019
3 minutes read
Music at Sandqvist
Anton has fused his devotion to outdoor life with an urban style to create beautiful yet simple bags, a testament to their Swedish heritage.
In recent years, the brand has grown to include other types of accessories. Sandqvist has also invited musicians, such as Ane Brun, to co-create bags under the brand.
We caught up with Anton for a chat at the beautiful Sandqvist office tucked in behind the quaint, historical streets of Mariatorget.
– Ten years ago I worked for a multinational company. I traveled a lot, had a great salary, and drove a company car. But I was bored. I was interested in starting on my own thing, but it wasn't as if I loved bags. I made one myself because I needed one and because I knew how to use a sewing machine. Everyone loved it. That's when I realized there weren't many well-made and reasonably priced men's bags available.
Is that bag among the bags on display here?
– No, I threw it away. So stupid. I was moving to a smaller house and simply had too much stuff. I honestly didn't think the company would become anything, so that first bag didn't mean anything to me. I still have a few bags from the first run, but they don't look anything like the bags do now. I made them from tarpaulin and seat belt straps. We've come along way.
The discussion leads us into music territory and the Sandqvist sound. Initially, Anton says he hasn't thought too much about the sound, or at least not in a direct and deliberate way.
But the more we talk, the more a Sandqvist sound takes shape.
– I would say that Sandqvist could sound like Dungen. Maybe Dungen playing at Gagnef on a sunny day.
We've also worked with a hip-hop collective called Respect My Hustle that we met through Adam Tensta who did a gig for our ten-year party. Silvana Imam and a bunch of other artists did a great show for us that night. We'll work more with them. This is a part of our sound: contemporary Stockholm with a touch of the old times.
– We spent time on the way the shop looks. We call it "the best cabin in town." Naturally, we've thought about which music fits that feeling. That's why Ane Brun, Dungen, and Pugh Rogenfeldt are part of the store's sound.
"Sandqvist could sound like Dungen. Maybe Dungen playing at Gagnef on a sunny day."
After going veering off into a discussion about 60's and 70's Swedish prog and psych legends we come back to the present day and Sandqvist's work with Ane Brun.
– She is a good friend of our photographer who had his studio in our office. She'd come in often. I've loved her music since her first album. Around that time, we were making bags for some friends. We asked Ane if she was interested in doing a bag with us. We just did it, and it came out as her style. She's a big fan of our stuff and bought backpacks for her whole tour team.
On the way to the shop for our photo shoot, we finish by talking about who he would collaborate with to set the soundtrack of Sandqvist.
Anton's love for Swedish music shines through his final words.
– We're about to work with Mattias Nihlén from a hypnotic Malmö band called Ved. We're doing a brand film right now, and he'll do the soundtrack for that. It's been a lot of fun, and it's due out later this year. What I realize is that I really like Swedish music, both past and contemporary.
Redefine your music streaming
See how Soundtrack works for you and your store. Get our most exclusive features with a no obligation 14 day trial, unlocking everything available in Soundtrack Unlimited.