Blog
Christmas music for business: Pro tips and playlists
Here's everything you need to know about playing Christmas music in your business, plus the most popular playlists including holiday classics to this Christmas' latest hits.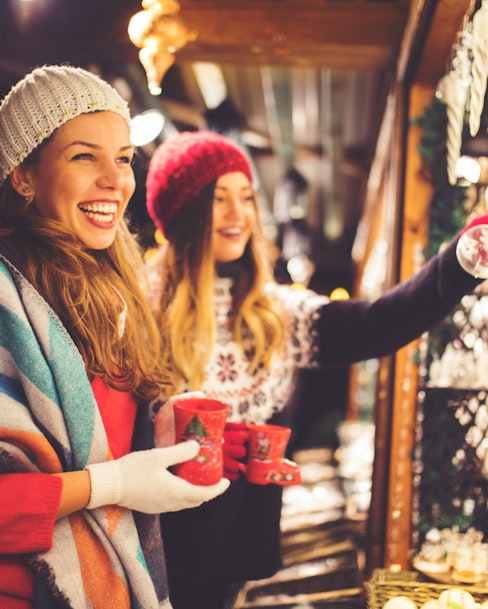 With the Christmas season upon us, here's a checklist from Soundtrack Your Brand's music team that will help you plan for a successful holiday season. 

Soundtrack's music catalog offers thousands of new and classic Christmas songs and playlists, to help ensure that your Christmas music experience is on brand and that all tracks are properly licensed for business use.
In this guide, we cover everything you need to know about maximizing Christmas music for your business. Plus, 5 great playlists that can entertain your customers and boost sales this holiday season.
Posted on November 22, 2022
3 minutes read
7 important tips when playing Christmas music in your business
Christmas music can improve customers' moods, increase sales, and create a memorable experience. But when it's overdone, it may also be counterproductive. Use these tips to get the most out of your Christmas music.


1. Don't start (or stop) playing Christmas music too soon
Don't jump the gun. Even if you started decorating for Christmas right after Halloween, you might want to wait to add Christmas music. Christmas music may result in some holiday fatigue if played too early - particularly for employees.
Make sure you don't stop playing holiday music too soon either. The days between Christmas and New Year's are an excellent opportunity to extend the Christmas feeling to your customers. There are ways to ease in and out of the right mix this holiday season, in tip number 3.

2. Use a streaming platform that's legal for businesses
Did you know that it's illegal to use Spotify and other consumer platforms to stream music for your business? You need the proper licenses to play music commercially, whether you have a single restaurant or shop or hundreds of retail locations. 
Soundtrack Your Brand offers affordable monthly subscription plans with over a thousand playlists and over 98 million of songs - all licensed for business use. 

3. Work Christmas songs into your repertoire - without letting them take over
One of the best things you can do when playing Christmas music for your business is to combine Christmas songs with non-Christmas songs. For example, you might choose to have every 2nd, 3rd, or 4th song be a holiday track. 
The easiest way to set this up is by utilizing our scheduling feature. If you drop multiple playlists into the same slot on your Soundtrack Schedule, they will play in a round-robin fashion. (One song from the first playlist, one song from the second playlist, one song from the third, and so on.)
To learn more, check out our tutorial video on scheduling.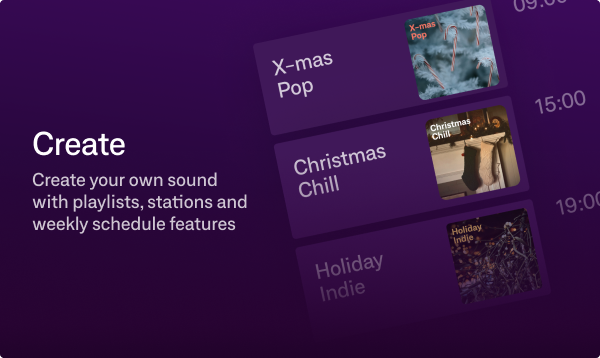 "Christmas music can be a blessing and a curse, depending on how you use it. While it gets people's emotions going and can have a positive effect on shopping behavior, too much can have the opposite effect—especially among staff."

4. Stay on brand by playing your usual genres
If you normally play pop, then play pop Christmas songs. If you typically play indie music, then play indie Christmas songs. It's not that you can't mix in a few classics, but your guests are listening and will connect with your brand if you stay true via your brand's sound identity.  
And if you use the scheduling tip above, alternating between Christmas and non-Christmas songs can create the most effective Christmas listening experience.

5. Try alternatives to the overplayed classics
Consider playing alternate versions of your favorite Christmas classics. Checkout the range of Holiday playlists and titles here.     
Thinking outside of the box applies not only to individual songs, but playlists and entire genres too. Although it's good to lean toward your usual genres and brand sound, you can definitely try adjacent ones to curate a more unique listening experience. Again, mix in some classics, or try  working some adjacent genres from Christmas Instrumental, Reggae, Country  or Jazz  into your repertoire. 

6. Source suggestions from your team
Talk to your team about the kind of Christmas music you'll play, when you'll play it, and why. They may have some insights from guests and it also helps them feel included.
Ask them for any suggestions on how you can make the Christmas listening and work experience enjoyable, and not too repetitive. 

7. Take breaks from X-mas tunes, especially after hours
Your team may need a break after a long day, so you might switch up the mix in your schedule for after hours. If you run a customer-centric business like a retail store, hair salon, or dental office, make sure to plan non-Xmas music before opening and after closing. 
If you're playing instrumental Christmas music at your office or lobby, try taking breaks by scheduling a non-Christmas slot in the day, such as between 1 and 3pm, during which time you can play instrumental jazz instead.
Get to know Soundtrack Your Brand:


Sign up and start listening today
Get our most exclusive features with a no obligation 14 day trial, unlocking everything available in Soundtrack Unlimited.