Blog
What's the soundtrack of a sale? 5 tips to get the most out of your sale season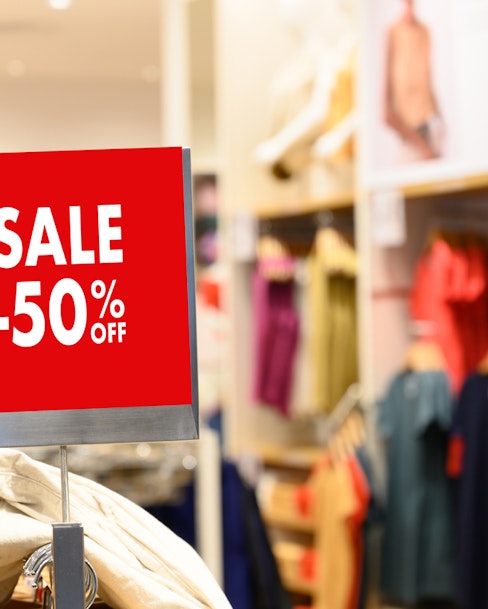 Every day for a retailer is Black Friday, although the real deal is just around the corner. So is Singles Day, and the miscellaneous holiday sales are soon to follow. But it doesn't stop there. Retailers have more and more seasonal sales every year, and discounts pull bigger and bigger crowds. Customers lining up to the cash registers often have to suffer for a long time to buy those bargain sneakers. What can you—the store manager or business owner—do to make life a little easier for your customers and the staff helping them?
Posted on February 19, 2022
3 minutes read
1. Recognition
Studies show that songs we recognize grab our attention and make time pass faster. So if you want to turn that long line into a somewhat more pleasant experience for your customers, play music that they recognize. If they happen to like the songs, it's even better. Scientists have proven that time actually does pass quicker when you have fun. So, no matter what style of music you're playing—mix it with some of the playlists that include the biggest hits to drive up recognition.
2. Follow the flow—go scheduling
A rule of thumb when creating a smooth musical environment: match the customer flows by scheduling your playlist. Low intensity music during slow hours and high intensity music during peak hours. When the tempo is higher we act quicker and make faster decisions. Sales are most definitely always peak hours, so don't be afraid to raise both the energy and volume when your store gets crowded. You'll clear the shelves AND the lines, and at the same time give your staff an energy boost. Speed up your business!
3. Keep the staff happy
Let your staff select the music and create personal playlists. Schedule those playlists before and after ordinary opening hours. This will keep up the working spirit during busy sales and still let you play music that fits your brand. Last but not least, explain the idea that drives the in-store music to your team. It's crucial that the music reflects your brand, not your or anyone else's personal taste.
4. Make sure your customers find what they're looking for
It's probably safe to say that the music won't be of much help if your customers are looking for something they can't find in the store. Their search will probably take up time from helpful staff, and cause a domino effect large enough to affect customers who just want to pay and go and won't be able to find the available staff to help. Preparing for a sale is everything, so make sure things are stocked and in the right place.
Also, try to display your available stock online through your website if that's an option. This way, people know beforehand if their product is available. Right now, this is more important than ever in order to avoid creating unnecessary crowds when social distancing should be top-of-mind.
5. Consider making the music experience family friendly
Holidays are to a large extent family-centric, so it's not much of a stretch to claim that lots of people are buying gifts for –and with– close ones during these types of sales. Consider if your business could benefit from making the experience more welcoming to families by removing songs with explicit lyrics – however, this depends on the type of person you're expecting to come to your store.
If you don't have the time to create your own playlists ahead of your big sale, don't fret. Simply use one of our ready-made playlists, crafted by our skilled music curation team. These are great general playlists to help out with your sale & peak hours, thanks to their mainstream focus and high energy. Good luck with your sale!
Ready to get started?
See how Soundtrack works for you and your store. Get our most exclusive features with a no obligation 14 day trial, unlocking everything available in Soundtrack Unlimited.