Guide
Best music sound systems for your business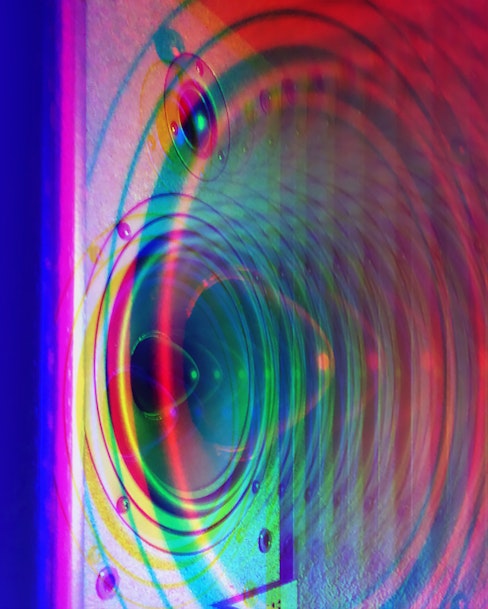 You need a great sound system to help play on-brand music. Here's a guide to the best sound systems for businesses.
Posted on September 15, 2022
7 minutes read
Music is a vital component in most business environments and brand experiences. Selecting the right music and playlists helps build brand identity and encourages repeat customers. But the wrong sound system can absolutely ruin the experience. Customers will notice when your sound system is wonky, or has no ability to play bass.
 In our guide to the best sound systems for businesses, we detail things to consider, types of sound systems, and hand-selected recommendations. 
When playing music for your business, make sure you're using a licensed commercial music streaming service, like Soundtrack Your Brand, as it's illegal to use consumer platforms like Spotify and Apple Music for commercial purposes.
What's in this guide:
General Considerations When Setting up Your Business' Sound System

Wireless Versus Wired Sound Systems

Types of Wireless Sound Systems

Recommended Wireless Sound Systems

Recommended Wired Sound Systems
General considerations when setting up your business' music system
It is important to figure out the music playback needs for your business, in order to avoid wasting money and getting it right. Square footage will dictate sound coverage including the number and size of the speakers deployed; and sound level desired.
Multiple ceiling-mounted speakers can be set to a slightly lower volume level (than a pair of much louder ones) and still focus the music in the desired areas effectively. Focused sound means less disturbance to adjacent areas—a serious consideration when your business is located in an open mall with other stores around it.


Zones
A noisy bar next to a  a quieter dining area may require different music programming and sound systems to accommodate the ability to stream a variety of music or different volume levels. 
Louder music playback requires larger speakers that can produce low end frequencies and subharmonic bass. Modern music is often more bass heavy and trying to play louder levels on smaller speakers won't genuinely reproduce the true sounds of the song selected. Music tilted towards more bass (and less treble) is easier to talk over. 
Spaces separated from the bar and restaurant such as restrooms or and outdoor patios may require another set of speakers set at the appropriate volume level.
Spaces that connect or are within earshot of one another would demand consideration of the music played in each space. The simple solution is to play the same music exactly in sync in both spaces. Volume depends on each space; i.e. the bar may have to be louder and use more speakers than the dining room.

Acoustic room treatments
Acoustic treatment products applied to the walls and ceilings can be expensive. You should employ an expert to do this, as it makes a tremendous difference to the actual feeling in the room as well as the acoustics. Music sounds much better in rooms with some acoustic treatment—there is less echo and reflections coming from hard surfaces— uncarpeted floors and stone, marble or plaster walls, windows and hard surfaces.
In addition, proper acoustic treatment enables natural conversational tone and volume even when music is also playing.
Acoustic room treatments can be installed within new walls during remodelling and also can be part of any sound isolation (sound proofing) construction you have planned.
Here are some companies that sell stylish and effective acoustic treatment products that can be simply added to your existing room. Both these companies offer free consultation on the installation of these products.


Installation processes and costs
Loudspeakers are one of the biggest equipment costs, especially if you need many to cover a large space with several speakers. Speakers are usually set up on mounting brackets attached to the walls or installed in  ceilings. Generally you would want them out of reach of customers. Mounting brackets typically come in white and black, but custom colors are available if you plan to install multiple speakers. 
There are both powered and passive (unpowered) loudspeakers. Unlike the passive PA/paging system speakers of olden times, modern powered speakers have power amplifiers built inside of them and require wiring for both AC power (from a wall socket) in addition to the actual audio signal. 
Proper installation for each speaker in your business would be subject to local electrical building codes and be safe. You may want to consult an electrical contractor for this work.
The source is the unit that receives the music stream from the Internet and plays it out to the speakers. Many commercial streaming services provide dedicated units that have analog stereo audio outputs that connect to your powered speakers and a Cat-5 network connector that plugs into your router. Usually a simple app on your phone handles your account and details. 

Wireless versus wired sound systems
Before you can purchase the right sound system for your business, you have to choose between wireless and wired.
Wireless speakers use low power microwave radio frequencies for either Bluetooth pairing or a WIFI connection over a network connection to convey the music to them, from a source device. Wireless systems do not require as much hole drilling and running cables like a wired system.
A pre-existing wired speaker system already in place works, but may be limited to a single zone. What you have may be outdated, poor placement for optimal audio, or simply may not fit the aesthetic or décor of the space. Sound systems have come a long way and generally sound a lot better, but the decision to replace an already wired system might be made after your initial meeting with a prospective sound contractor or integrator.

Wireless sound system pros and cons

Pros
Cleaner look - A wireless sound system offers a more modern, neater look. With no wires to be seen.

Safer - Businesses that opt for wireless sound systems don't have to worry about customers or staff  tripping over any speaker wires.

Simple to operate - Digital sound systems use a digital-to-analogue converter (DAC) and an amplifier to create the sound you hear. With a wireless sound system, these components work automatically, and you don't have to tinker with them. 

Better for high numbers of speakers - Because there are no wires to contend with, it's easier to install several speakers around your facility.
Cons
More expensive - Because they use advanced technology to transmit sound without wires, wireless sound systems tend to be more expensive than wired ones.

Lack of control - The system handles DAC and amp settings for you, meaning you can't perfect the sound. This is typically only a problem for businesses putting on concerts and other events. For most businesses, the standard settings will sound great.


Wired sound system pros and cons
Now let's dive deeper into the advantages and disadvantages of wired sound systems.
Pros
Top quality sound - With a wired sound system, you can control the sound better and you will benefit from decades of manufacturers' experience with making these systems. Keep in mind that most listeners are more than happy with the sound that a good wireless system provides.

Reliable - You don't have to worry about speakers becoming unpaired or the WIFI going down. As long as your system is plugged in, it will work. 

Less expensive - These systems tend to cost less, making them a good fit for smaller companies. 

Easy setup (for small spaces) - Because you don't have to pair speakers or set up the wireless connection, it can be faster to set up a wired sound system if you only need a few speakers.

Cons
Can be hazardous - The wires can be an eye sore and a tripping hazard, so consider where you will place equipment before making your final decision. 

Challenging for more than a couple speakers - If you want four or more speakers in your restaurant, office, or retail shop, it will be a major hassle to connect and hide all of the wires. 

Difficult to move around - Once you've set up all the wires, you won't want to move the equipment. So only choose a wired system if you're pretty sure you won't need to move things around. 


Types of wireless sound systems
There are two main types of wireless sound systems, Bluetooth and WIFI-based. Most businesses will choose WIFI, but small restaurants and cafes might opt for Bluetooth.
Bluetooth
Bluetooth speakers are for short-range use in small rooms. Bluetooth is a single device (cell phone, tablet or laptop) that pairs to a single speaker. 
Bluetooth speakers require pairing every time you use them plus, at times, you may have to re-pair them often if radio frequency interference derails the Bluetooth signal.
Keep in mind that wired systems can also include Bluetooth technology to allow you to play music from your phone, however the amplifier and speakers will all be wired. 

WIFI
WIFI speakers can operate over longer distances and you can connect any number of them all on the same WIFI system. 
WIFI systems generally sound better. They use no data compression (to squeeze good music fidelity into a low bit stream) like Bluetooth does and, once setup, they also start playing automatically, as soon as they power up. This is a blessing if you are in an area of frequent power outages. Rarely, WIFI signals can be interfered with, but this only causes temporary silence (instead of having to re-pair the device, as would happen with Bluetooth).
The Best Music Player for Controlling Playlists Remotely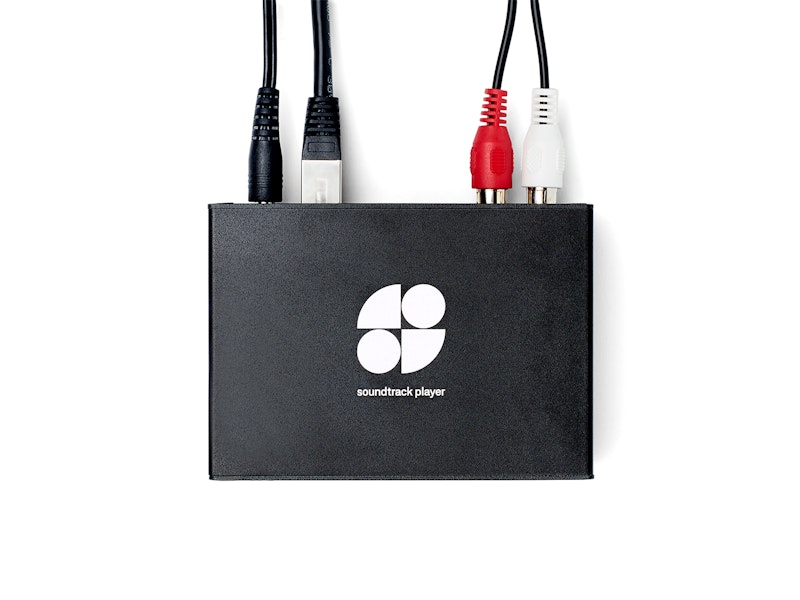 As a business, you need to consider who you want controlling your sound system. If you don't want employees on location to be able to set the music, then you should use a remote player that allows you to control what songs and playlists are playing at all time. 

Our Soundtrack Player is preferred by our Enterprise customers who'd rather control the music centrally. You can always add the iOS Remote app if you want your employees to adjust the volume and switch songs. Even though our hardware is well suited for Enterprise businesses with lots of locations, the Soundtrack Player is also a great alternative for all customers with all size businesses who want to pre-set their music.
Since the Soundtrack Player is equipped with analogue outputs and is dedicated for our service, it also works perfectly for small to medium venues with more traditional Hi-fi setups, for example an amplifier and cabled speakers. Simply connect the Soundtrack Player next to the amplifier and control it remotely through the web portal or iOS Remote App.
5 Recommended wireless sound systems
Here are a few of the top-rated wireless sound systems for businesses: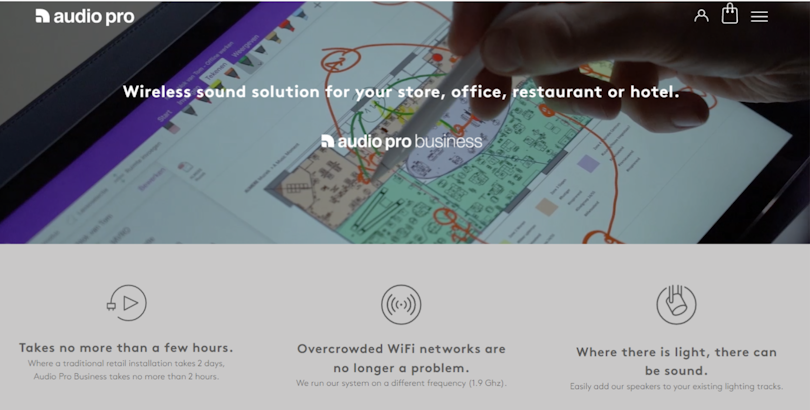 Audio Pro makes four complete system sizes with up to 80 of their SP-3 wireless speakers in their X-Large version. The smallest system has four SP-3 speakers, one SUB-3 wireless subwoofer, the TX-1 transmitter and the VOL-1 handheld wireless remote control. Interesting to note the SP-3 speakers look like track lights and get their power from the track and also they use different frequencies than WIFI or Bluetooth and claim twice the range.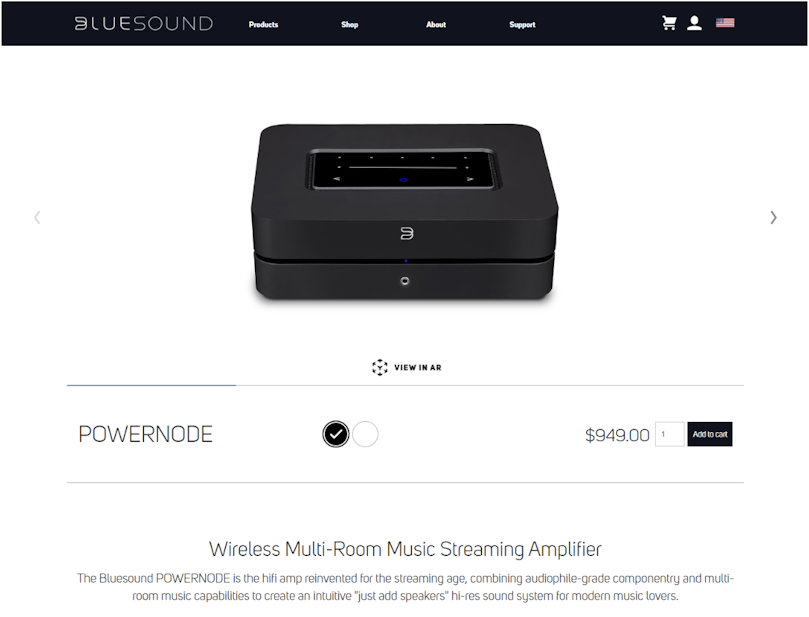 Bluesound makes wireless extension speakers for your TV and/or stereo that can be used at a business and/or home. All under control of the same App, the speakers come in three sizes, can be individually voice-controlled, and stream in hi-resolution, 24-bit/192kHz audio.


Denon also makes wireless speakers and subwoofers using their HEOS® technology. You could start with their AVR-S660H receiver and add their Denon Home 150 wireless speakers as needed around your shop. The speakers work on either Bluetooth or WIFI.



Ecler makes their WiSpeak system that starts with their Core transmitter to send wireless Bluetooth audio to both their Tube and Cube loudspeakers that attach anywhere in your business on compatible track light rails or on walls or desktops using one of their accessories. Core transmits individual configuration commands to each loudspeaker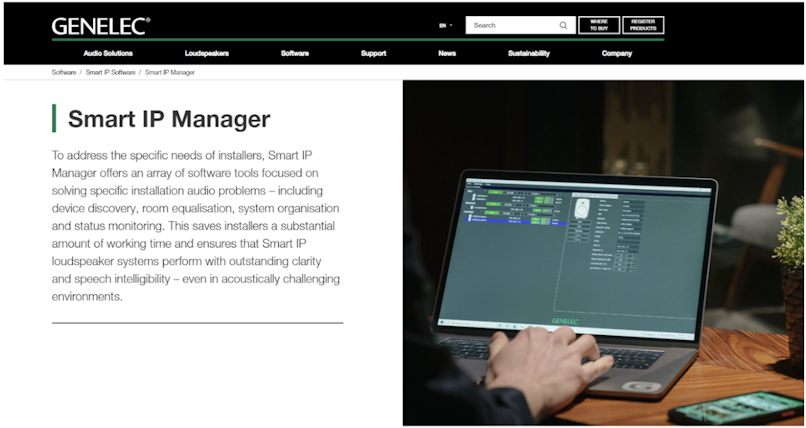 Genelec Smart IP Manager is a software application that interconnects all Genelec 4400 Series Smart IP (PoE) speakers in a network using conventional CAT-5 or CAT-6 cabling to all speakers and your Network PoE router at once. Each speaker receives power, audio, and control via Ethernet wiring. The Smart IP Manager software conveys all audio and control signals including zone setups, volume, frequency response, and optimized acoustic performance for any zone. If connected to a wireless router, Genelec also offers the Smart IP Controller application for your smartphone or tablet.

5 recommended wired sound systems 
If you're looking for a dependable audio experience and aren't afraid to install some wires, then check out these great systems: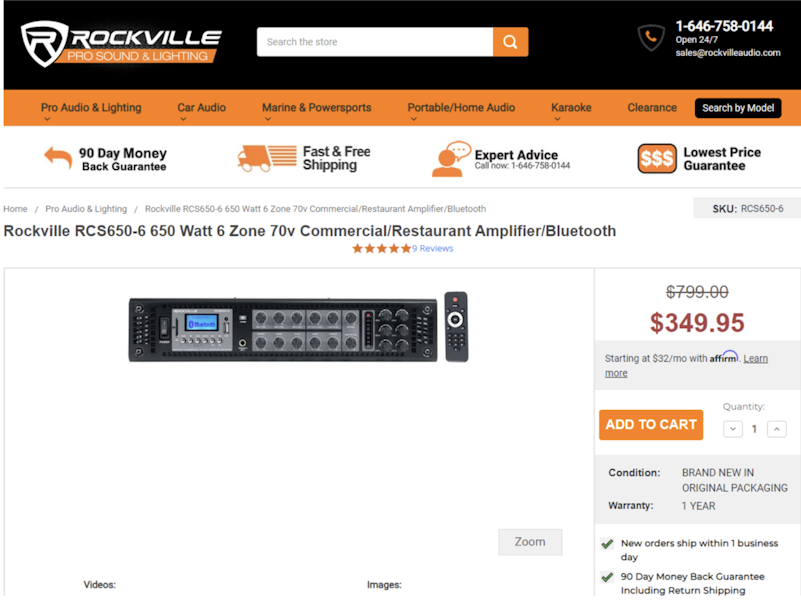 The Rockville RCS650-6 650-watt 6-Zone 70volt Commercial/Restaurant Amp uses Bluetooth technology to allow you to play music from your phone, but it is actually a wired sound system, because you'll need to connect wires between the amplifier/receiver and your speakers.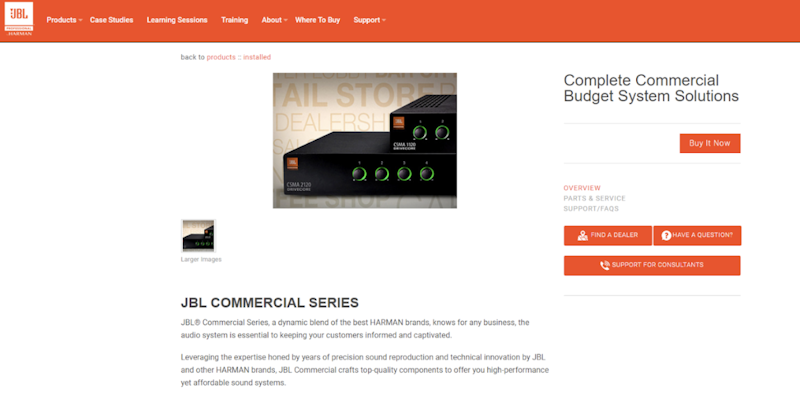 JBL offers many different commercial sound systems and speakers, including ceiling speakers and in-wall speakers. You can purchase the amps, speakers, and speaker wires that you need for your unique location. Commercial-grade speakers tend to be more discreet and less of an eye-sore.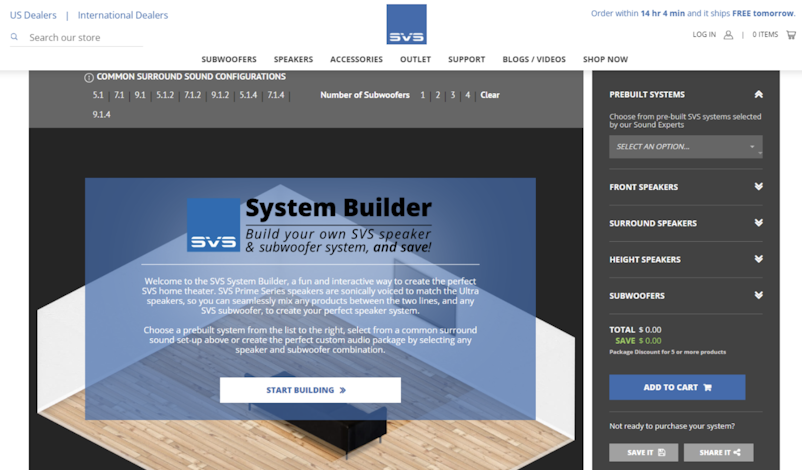 SVS makes high quality wired sound systems and speakers. Although the company does cater to home theater systems, it can be a great fit for businesses looking to create a sound system where everyone is seated in more or less the same area, such as in corporate meetings. It could also be a great fit for cafes with open mic nights or karaoke nights. With their System Builder, you can purchase a pre-built system or customize your own, placing the speakers exactly where you want them.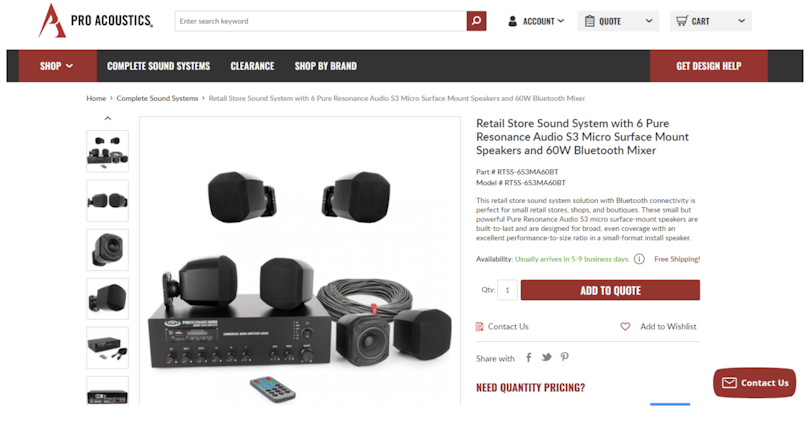 The Pro Acoustics Retail Store Sound System includes 3 pairs of Pure Resonance Audio S3 3" loud speakers that are easy to mount, a commercial amplifier, and 250 feet audio speaker wire. This system is an excellent choice for small retail stores, shops, and boutiques. It can also work for small med spas or other offices. The Bluetooth connectivity allows you to play music from your phone, but keep in mind that the system itself is still wired.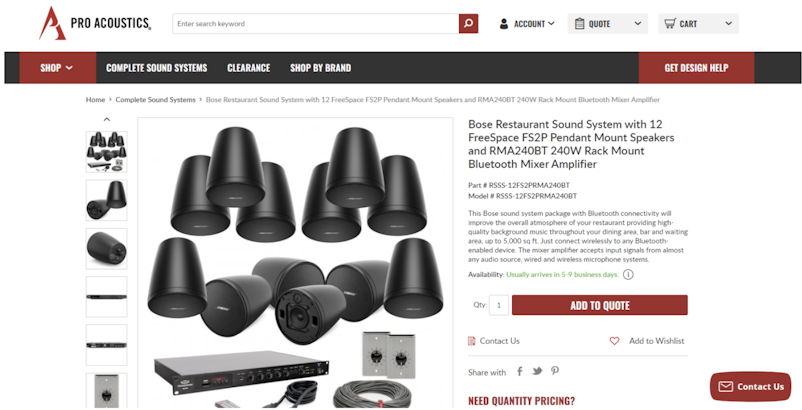 The Bose Restaurant Sound System with 12 FreeSpace FS2P Pendant Mount Speakers can cover up to 5,000 square feet of space. It includes 12 pendant style speakers, one commercial amplifier, one separate mounted for volume controls, and 500 feet of audio speaker wire to connect everything together. The system is a great fit for larger restaurants or retail locations. It system also includes Bluetooth functionality for playback from your phone. 
Redefine your music streaming experience

Great music is an essential part of any shopping or dining experience. Make sure that you have the right sound system on board to help customers enjoy your playlists.

Check out Soundtrack Your Brand for commercial music licensing and easy playlist scheduling, or jump straight into all of our most exclusive features with a no obligation 14 day trial, unlocking everything normally available in Soundtrack Unlimited