Blog
Soundtrack of IKEA Festival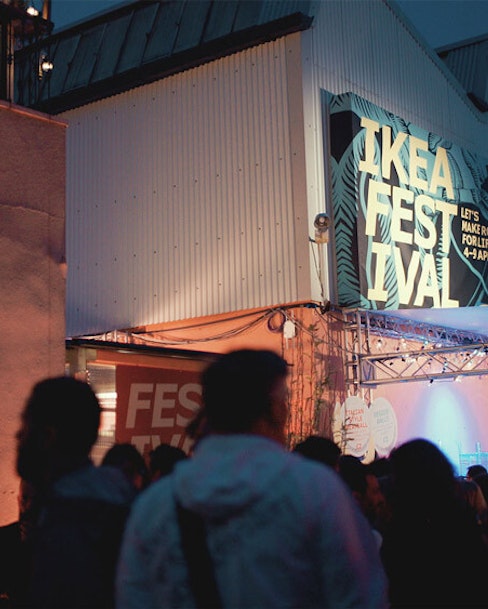 Creating different types of ambiance with music zoning.
Posted on October 30, 2019
2 minutes read
An optimal soundscape
Always seeking new and entertaining ways to showcase upcoming products and design, IKEA created a music-festival-themed venue where visitors interacted with its collaborations and collections at the world's biggest furniture and design fair.
Instead of setting up a traditional temporary showroom at Salone del Mobile, IKEA's designers went rogue and took over a warehouse in Milan's young and vibrant Lambrate district. The IKEA Festival featured everything from live music, art performances, and happenings to interactive room designs.
Through its research, IKEA knows that music has a dramatic influence on how a person experiences a space. If the sounds don't coordinate with the design, the overall impression falls short. Sound is a huge factor on environmental experience and is an effective way to guide people through a space.
The solution
To set the mood and tone of different rooms, the right music solution was crucial. But developing a background music approach can be complicated and costly for temporary installations.
IKEA's Head of Design, Marcus Engman, turned to communications agency Futurniture and Soundtrack Your Brand to design spaces and define each section musically. The solution was several playlists, each distinct, for the separate rooms. As visitors moved through the venue, the music transformed their experience.
"Soundtrack Your Brand has the skills and knowledge of licensing and technology to solve music-design problems for a variety of complex challenges. We can select and place music to build an optimal soundscape across different rooms," says Alf Tumble, curator at Soundtrack Your Brand.
"Music can change the experience dramatically."
How it works
Soundtrack Your Brand's curators began by creating an overall musical identity for the festival, enhancing the experience. Then they zoned music to reach the audience as they waited in line on the street, and to lead them through the festival and exhibition.
The curators created alternative playlists for the different constructions inside the warehouse, including an ambient playlist for the artist's studio.
The festival opened with softer activities such as breakfast and yoga sessions, building up to a more intense and noisy feel through the afternoon and evening. The curators scheduled the playlists to match this increasing intensity.
Redefine your music streaming
See how Soundtrack works for your brand experience. Get our most exclusive features with a no obligation 14 day trial, unlocking everything available in Soundtrack Unlimited.