Guide
Curious about streaming music for business (but not sure where to start?)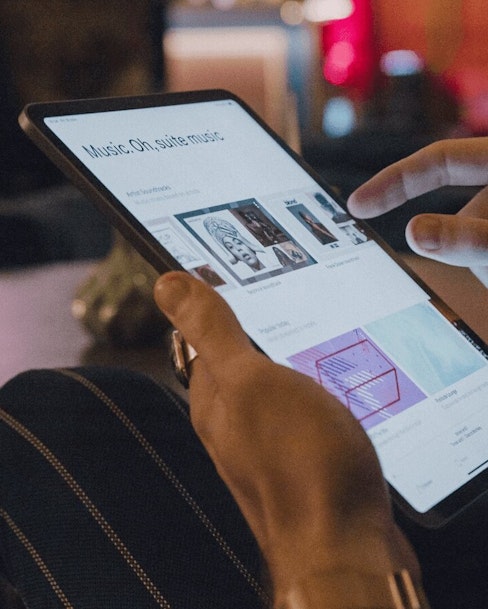 Our guide for anyone shopping around for their ideal professional music streaming service, with feature comparisons and some side-by-side research
Posted on February 16, 2022
5 minutes read
Right, you've got this. You know your music needs to be licensed and on brand. You're here to read up on what's out there, the solutions and music streaming services for business. What's the best, what's a mood mix, are you sure I can't just play my Spotify playlists?
Today, there are more and more professional, specialized and innovative solutions for streaming music for business, offering licensed music you can play and a range of different features to fit that music to your brand. Some let you play whatever you want when you want to, others are less interactive. 
It's a great time to be a business looking to take your musical identity seriously, you're spoiled for choice. If you've got the basics covered and you're just looking for the cold hard facts, jump straight to our comparison table.
In this guide, we'll dive into some out-of-the-box commercial solutions and how Soundtrack matches up. But before we do, it's good to just double-check some key questions:
Do you need dedicated hardware?

Radio stations or create your own playlists?

What features do your employees need?
Keep those in the back of your mind, they're key to deciding between all the different offerings in the world of music streaming.
How big is the catalog?
First, let's look at the songs. How much licensed music will you be able to play? 
Remember, these songs need to be licensed for business use, so most background music services have much smaller catalogs than you're used to with personal streaming services. 
On top of performance and reproduction licenses, your songs need public performance licenses too. Performing Rights Organizations (PROs) like ASCAP and BMI provide these in the US, and SOCAN and Re:Sound cover Canada. Some services give you songs with all of these licenses included, so you don't have to worry about them. But businesses in the rest of the world need to contact their local PROs to get those public performance licenses (to our knowledge, no service provides these outside of the US or Canada). 
Here's more on how we cover licensing
Some services may include licenses from more PROs than others, but that doesn't determine the number of songs you have to choose from. It just means that the songs they offer are covered by those PROs.
Soundtrack's leading the pack with the widest choice. You get over 58 million licensed tracks, almost twice as much music as a solution like Soundsuit who come in with a catalog of around 30 million songs, and other competitors offer significantly less.
How user-friendly is the service?
Now come the tools and features, the AI that's under the hood. This is where a service's technology should be looked at, things like scheduling, explicit song filters, or being able to share songs from your playlists. 
It's also about how well the AI creates recommendations for similar songs to the vibe that works for you. A service like Rockbot has around 300 playlists you can get into. SiriusXM Music for Business has over 200, and Soundsuit has over 300. Soundtrack offers over 1,000.
It's not all down to numbers here, as some of those playlists are designed a little differently. There might be more or less user control involved, and you might want to look into the business behind the service to get an idea of how often those playlists are created and kept up to date, reviewed, and refreshed for quality control.
Labeling and algorithms mean you've got the convenience of having automatically generated playlists recommended to you, based on things like what you've previously listened to, your business type, a particular mood, what's trending, or what other local businesses listen to. 
Not every solution allows you full control though. For some, it's all AI and you have limited input. So playlist building, on-demand requests, and user permissions are all things you'll want to consider before choosing a service to try out.
As an example, Pandora for Business is great for setting and forgetting, but not so great if you want a bit more of a say in what's playing. Here's some real, verified feedback from Soundtrack subscribers who've made the switch:
Different solutions like Rockbot can offer features that work when your space is more collaborative, where guests can request songs to queue up. On the other hand, Soundtrack lets you invite unlimited users, and it's up to you the level of control you want to delegate - full access to playlist editing, or only need to worry about volume control?
Our tip? Book a demo with anything you like the look of. It'll let you see what things look like as a logged-in subscriber, and ask any questions you've got.
How many zones and locations do you need?
This can get tricky, but it's good to know when you're reading the fine print and calculating the costs. Zones, locations - different services call them by different names and it's mostly a legal thing. We call them zones at Soundtrack.
But simply put, they're the different areas of your business where the music's playing. One address will have at least one zone. It's not the same as a single speaker, but more like the difference between the music you want to play in the bar and the music for the restaurant in the same building.
Some services that offer music streaming for businesses have different location-specific requirements for their subscriptions. It makes sure they're able to actually clear things with the rights and royalties. It's also so that the controls the software offers allows multiple user delegation, technically speaking.
It's also worth noting that some services need you to buy their proprietary hardware (and leave that out of the price point). So add that to the number of zones you might need to get an idea of the real costs, and what you're actually getting for your money.
All information was taken from publicly available sources and websites, and was correct at the time of this article's research
Ready to try it out?
Soundtrack gives you a 14-day full access trial of everything in Soundtrack Unlimited, free. That's complete access to every feature, full customization, full connectivity, and you can use whatever you're using now to read this article.